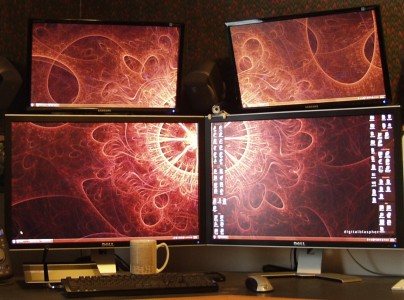 As you've probably already seen from my home office page, I'm quite the fan of multiple displays. There's no doubt that people who use their computers to do extensive work benefit from multiple displays.
As far back as I can recall, I've always used UltraMon to handle putting the additional taskbars on my additional displays – until recently. I'm now using Actual Multiple Monitors for this task, as it provides much more functionality, especially for Windows 7.
During some recent research I decided to create a list of mutliple monitor software. Below is a list of most of the software titles that I found, but it's by no means a complete list of what's available.
Note: I have not tried all of these. I use Actual Multiple Monitors, it suits all of my needs. You'll need to evaluate them individually to see if they meet your needs.
Actual Multiple Monitors
Actual Multiple Monitors is perhaps the best multiple monitor application available today. With Actual Multiple Monitors you will get a fully functional taskbar on each display. No matter which monitor you are working with the following Windows 7 Taskbar features will be available anywhere: Start button and toolbars, Pin, Peek and Jump Lists, Notification area (system tray), clock and Show Desktop button, and many others…
ActualTools has tons of info and screenshots on their website.
Free and Pro versions, 30 day Trial, $24.95 USD
http://www.actualtools.com/multiplemonitors/
DisplayFusion
DisplayFusion has powerful features like Multi-Monitor Taskbars, Multi-Monitor Wallpaper, HotKeys, TitleBar Buttons, Monitor Configuration, Window Snapping, Window Management, Window Location, Windows Logon Background, Multi-Monitor Screen Savers, and multi-language support. Version 5 adds online wallpaper sources, support for third-party Start menu programs in Windows 8, Windows 8 Tweaks, full taskbar jump lists, and more.
Free and Pro versions, 30 day Trial, $25, $35 USD for any number of computers in your house.
http://www.displayfusion.com/
Dual Display Mouse Manager
Dual Display Mouse Manager slows down the mouse pointer when it reaches the edge of the screen. It prevents the mouse from crossing from one display to another too easily, and allows teleporting mouse pointer between displays with a hotkey.
Free, Open Source C#
http://ddmm.sourceforge.net/
Dual-Monitor Tools
Dual Monitor Tools has powerful features like swap screen, dual launcher, dual wallpaper, monitor disabler, and dual snap.
Free, Open Source C#
http://dualmonitortool.sourceforge.net/
DualSwap
This little dual-monitor app shows a button in top of active window to swap the window between two monitors by single click.
Free
http://sourceforge.net/projects/dualswap/
EasyMon
EasyMon is a system tray application which allows you to quickly move applications across multiple displays in a multiple monitor setup using hotkeys.
Free
http://www.codessentials.com/products/easymon.html
MonitorSwitch
MonitorSwitch adds two custom buttons in the caption bar of any windows, allowing you to move the window to the next or previous monitor.
Free (non-business)
http://www.goldgingko.com/monitorswitch/
Mousenitor
Mousenitor helps control the way your mouse is permitted to move from one monitor to the other.
Free, Open Source C#
http://sourceforge.net/projects/mousenitor/
MultiMon TaskBar
MultiMon taskbar creates a second (and third) taskbar which will be put on extended monitors. Each taskbar display items from that monitor only. The PRO version has additional features such as resizing windows to multiple monitors, moving to monitors, suspending the extended taskbars when the computer is connected via Remote Desktop and themed captions.
Free and Pro versions, $28 USD
http://www.mediachance.com/free/multimon.htm
Multi Monitor Mouse
Multi Monitor Mouse (M3) widget allows you to warp your pointer across the monitor bezel and thus speed up your interactions!
Free, Open Source C#
http://graphics.cs.columbia.edu/projects/m3/index.html
SwapWin
SwapWin swaps display screens of any extended monitor with primary monitor.
Free, Open Source C#/C++
http://swapwin.codeplex.com/
UltraMon
UltraMon provides smart taskbars to multiple monitors, window management titlebar buttons, application positioning, display profiles, multiple monitor wallpaper and screensavers, mirroring, and more.
Free trial, $39.95 USD
http://www.realtimesoft.com/ultramon/
WallMaster
Wallmaster allows a user to set different wallpapers for each monitor in a multi-monitor setup.
Free, Open Source C#
http://wallmaster.codeplex.com/
zBar
Extend Windows Taskbar To Multiple Display Monitors With zBar. zBar puts a taskbar across the top or bottom of all non-primary screens with one or two rows of buttons, in six styles, with an optional clock, provides keyboard shortcuts to move windows one screen along, organises your desktop wallpaper one image per screen or one image across all screens, and displays a six month calendar, last month, this month, and four months ahead.
Free
http://www.zhornsoftware.co.uk/zbar/index.html