[box type="warning"] This is the page for my old office. Be sure to check out my new home office here.[/box]
After seeing Stefan Didak and Mitch Haile"s offices, I thought I would put together some pictures of my home office. Although not quite as nice as theirs, I hope you"ll enjoy them as much as I enjoy seeing nice home office setups.
Here"s a picture of my basement home office where I work daily. The office is 12" x 22" – approximately 290 sq feet. I write software for a living, so this is where I spend a large portion of my time. My system details are listed at the end of this page.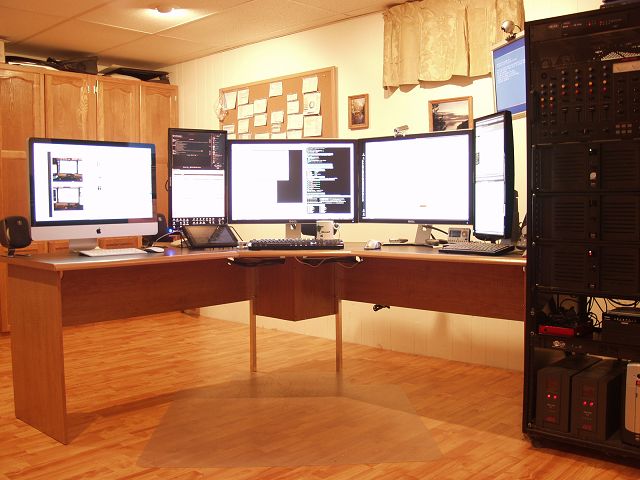 I love this desk. This is the second one I"ve had, the first did not survive a move from the west coast. I like that it has a round edge, which is easy on the wrists with the way I sit. The cork board contains screen shots of the HTML Editor that I write. My main computer is connected to the four monitors on the right, the iMac is on the left.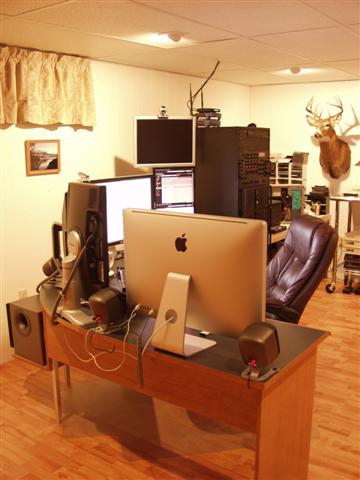 A second view of the desk. Here you can see how I modified the desk to hold the subwoofer/amp so my feet clear it. In the corner of the room there is a desk with piles of CD"s and my printer. I can also set computers there and connect them via cables to the KVM which is attached to the monitor suspended off the rack with an arm I built.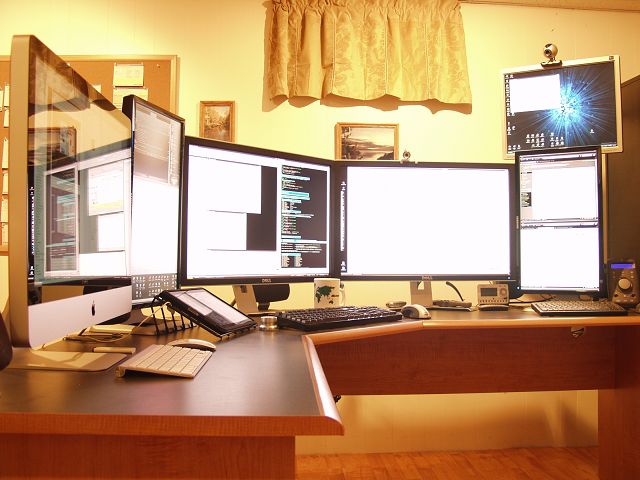 Here"s a side view.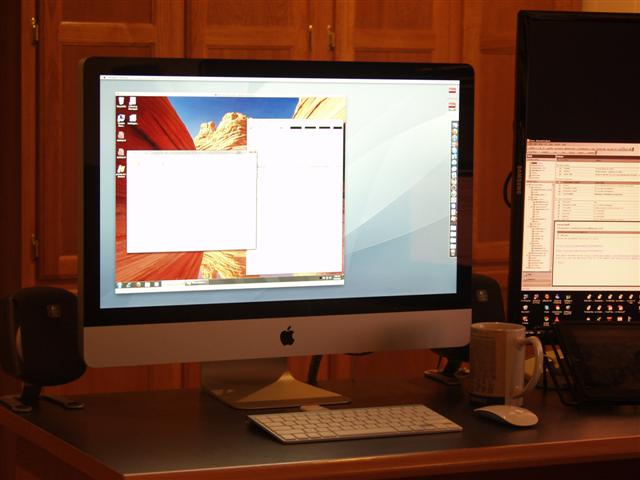 The iMac is a 27? 3.2ghz Core i3 with 8gb RAM. I use it for testing software in virtual machines via Parallels, and for iOS development (just starting to learn that). Behind the iMac you can see 2 cabinets that I store tons of hardware that I just can"t seem to part with.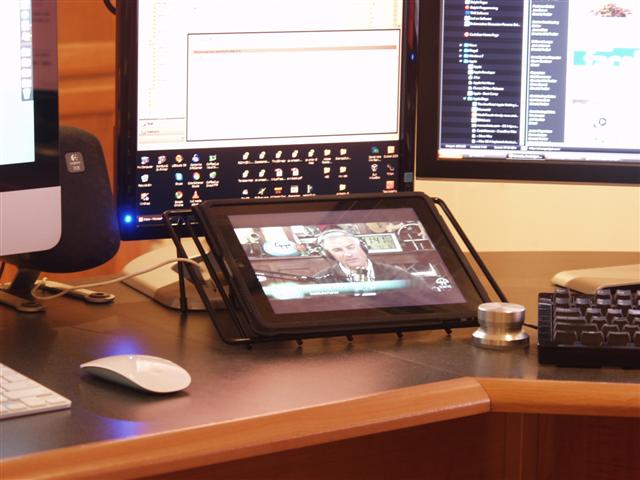 The iPad 16gb 3G sits on a rack I had laying around. (Hi Leo!) This also shows the Griffin Technologies PowerMate controller knob. The monitor above the iPad hosts mainly Outlook and Trillian for instant messaging as well as shortcuts to some items.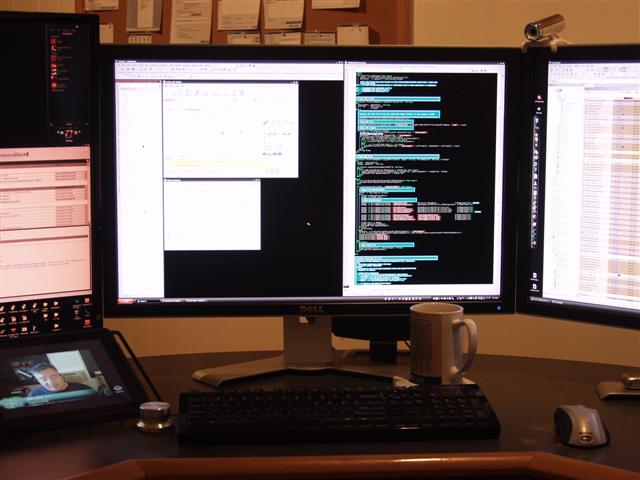 My primary 30″ monitor (2560×1600) showing the Delphi development environment. The large monitor is very useful for being able to see 145 lines of code at a time. Also shown is my Agent V5 camera, which is really nice. Oh, and the coffee cup warmer – gotta have coffee! Also, Paul Thurrott on the iPad doing Windows Weekly – I love Twit.tv.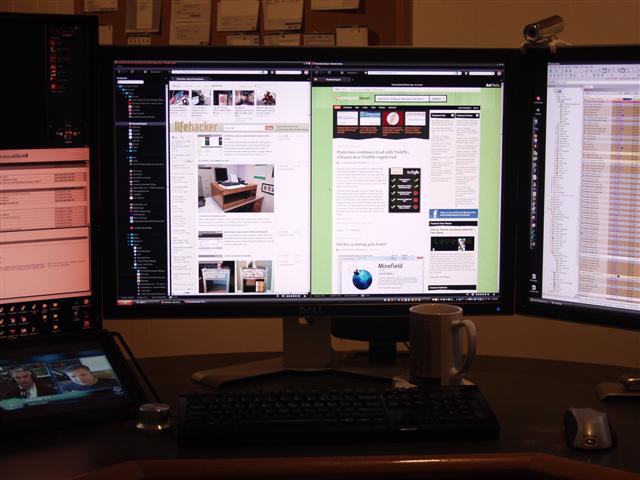 My primary 30″ monitor showing dual browser windows, this is how I normally browse the web. I can easily drag referenced web sites from one window to the other without having the play the tab or back button game. I use Firefox and the SmallringFX Darkblue theme.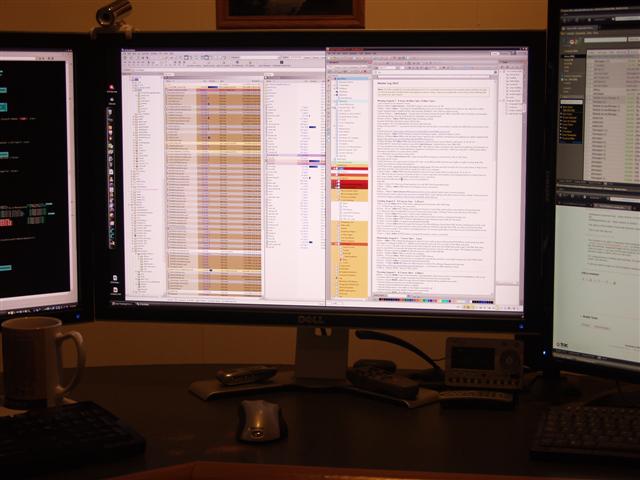 The secondary 30″ monitor is often used for file management via Directory Opus (left) – the most awesome file explorer on the planet, my GemX TexNotes Pro information manager (right), and various other windows for reference and the running of apps from the development environment from the primary monitor. RocketDock also sits on the left for launching apps. The rightmost monitor usually just displays GMail and Trac for project work tickets.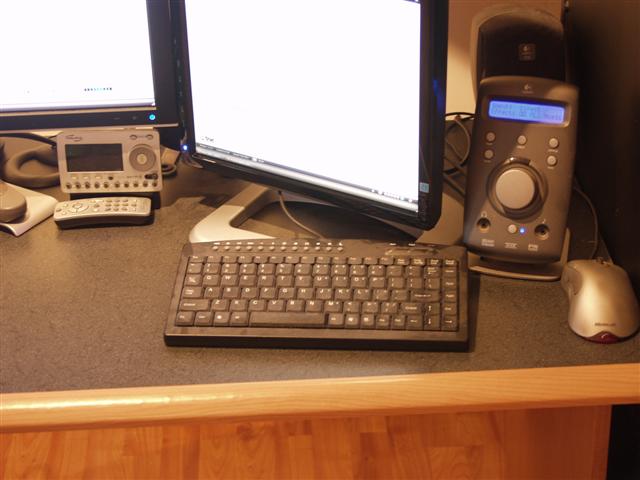 On the right side of the desk I have an XM Radio, a keyboard and mouse for the KVM, and the controller for the sound system. All of the computers and devices are connected to the mixer, which then connects to the sound system so I can mute or adjust all the devices at one time either from this controller or the remote.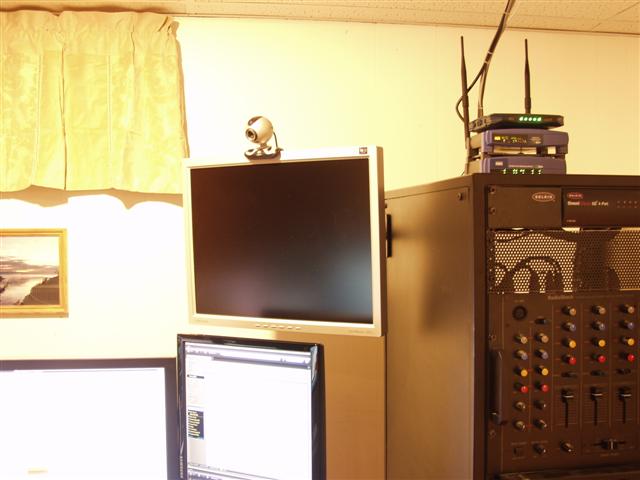 The monitor suspended on the rack is connected to the 4 port KVM switch, which allows me to control up to 4 computers with the keyboard and mouse. Also shown is the cable modem, wireless router, and 16 port switch. There are ethernet cables going upstairs to most of the rooms. There are usually 6 computers upstairs, and 2 in another room downstairs.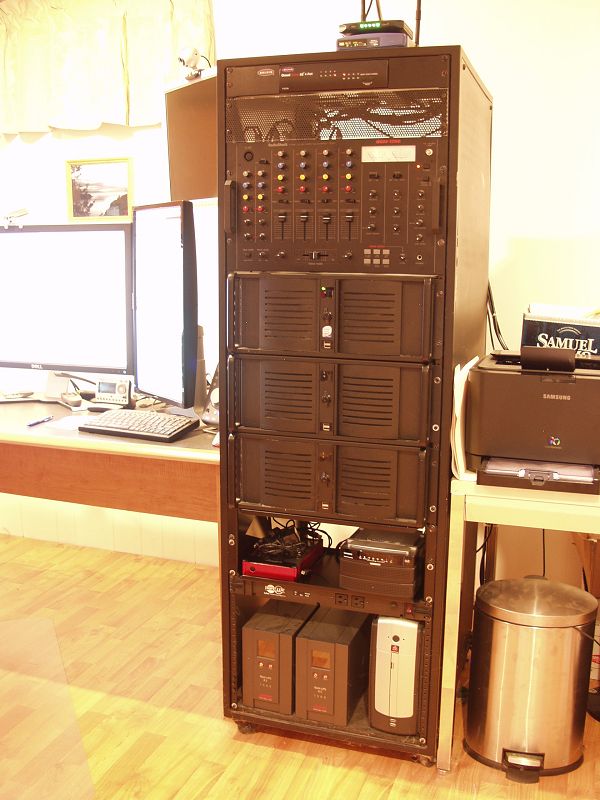 I built the rack myself, It"s welded 3/4″ x 3/4″ square tube frame with purchased rails. Aluminum sides and top. Visitors often say "That"s your computer?!" – I have to explain that it"s actually three rackmount computers and a bunch of other stuff.
System Details
In the rack I have: (from the top down)
Belkin OmniView 4 port KVM
Radioshack Mixer for all devices to play through one set of speakers
4U Computer 1 – My Main machine
4U Computer 2 – Old Development Machine
4U Computer 3 – My "Server"
External Backup Drive
Linksys NAS
TrippLite power strip
Two 1500 AVR APC battery backups
Mirra Backup Server
Samsung 21″ (1600×1200) attached to KVM and Computer 2 and 3
On the top of the rack I have:
Cable Modem
Linksys Wireless router
Linksys 16 port switch
On my desk I have:
Two Dell 30″ LCD"s (each 2560×1600)
Two Samsung 23″ LCD"s (1152×2048 vertical)
27″ 3.2ghz Core i3 8gb iMac
iPad
XM Satellite radio
Logitech Z-680 sound system and controller.
Coffeecup warmer – I love my coffee!
Microsoft Mouse and dasKeyboard – yea buckling springs!
The four monitors on the desk are all attached to my primary machine, a Quad-Core Intel Windows XP Pro box. I can also display my other machines on the 21″ LCD via my KVM switch.
I"m still looking for a cheap rackmount router/firewall, but haven"t found one yet.
Q & A
I"ve received questions over time, so I thought I would post them here.
What desk is that? I"m not sure. I think I bought it at OfficeMax or possibly Staples. It does not appear to be available anymore.
Do you really need that many screens? No, but it sure helps. I write software, so I"m often looking at a lot of sourcecode (text). Sometimes I"m running and debugging apps, so I need to see the code and debug windows as well as the app window at the same time. It also helps with large reference documents while coding, and being able to glance over and look at IM"s and emails while working and continuing on with as little break in the workflow as possible.
Don"t you have any windows? Yes, but they"re covered. I hate glare. Plus, when it"s sunny out, it makes it harder to stay inside and work.